Club membership are available to purchase online only.
Memberships can be bought online through our Amelia platform. You can do this while in the lots but cannot be purchased at the booth. So please purchase your membership before you arrive.
Please note: we do not provide refunds for daily trail fees. So please buy your membership before you start riding!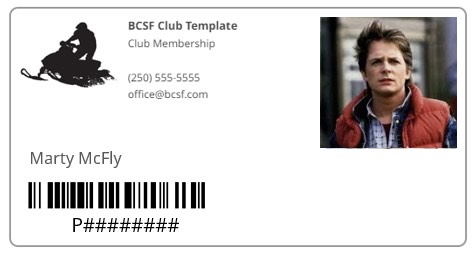 Sample" PMSC Membership card, issued annually
All memberships expire on Oct 1, and are non refundable and non transferable. Should you join anytime within the 90 days before Oct 1st, your membership will be valid for the next year.
The trail head will open when there is enough snow to groom. Likewise, it will close when the snow melts and the groomers can no longer safely groom.
All passes are issued to a person, and not the sled. Membership cards must be presented at the booth.
Season Pass – $300.00 +GST
Single individual member.
Full access to our trails.
A Club Membership also includes membership to the BCSF which gives you many benefits from their corporate partners. Please check out the benefits HERE
Season Pass Photo Specifications
Similar criteria as a passport photo.
Head and shoulders only, with Face fully visible please;
no sunglasses, no hat, no hoodie on;
And only you in the photo.
Please upload your picture to your Amelia profile once you purchase your pass and this will be added to your membership card
At the booth, starting tomorrow we will be scanning membership cards. Please have yours with you.
To get your card –Sign in to Amilia using the login button in the navigation.
Powder Mountain Snowmobile Club has a trail management agreement with the Provincial Government for the Brandywine Trail system (Chocolate Bowl and Brandywine Bowl).
Our daily trail pass fees are:
$30.00 +GST per sled, passengers require a pass but passenger passes are free.
$5.00 discount for members of other BCSF Clubs (a membership card will be required to be shown at the booth)
Children under 16 are free while riding with their parents and there is no senior's discount.
We would like to express our thanks to our Sponsors. Their financial assistance helps make this the best Sledding club in the Sea to Sky. Thank you.