Annual General Meeting 2020
October 22, 2020 @ 8:00 pm

-

9:15 pm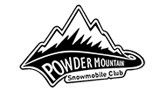 TAKE NOTICE THAT the Annual General Meeting of the Powder Mountain Snowmobile & Outdoor Recreation Club will be held on Thursday October 22, 2020.
The meeting will be held using Zoom, registration will start at 7:30, the meeting will commence at 8pm. Only registered members will be allowed to vote. Please have your membership number available at registration. To become a member, please click here to join. Please login early to register, and to resolve any technical difficulties.
Hope to see you there.  Please come out and listen to everything that has happened over the summer.
We will discuss trail improvements, how Covid will impact us this winter, and most important, get an update on our new planned Safety Cache.
But most important, you get to elect the Directors that will run the Club for the next year.
Note: We are looking for new Directors that can help out.  Do you have some free time, with the monthly meetings via Zoom, it will be easier than ever to help out even if you are from afar.
Looking for help in the following areas: communications, maintenance, secretarial
So please book the date and join us.  Anyone can listen in, only active members can vote.
Reminder: Please have your member number available when calling in.